The Fair Oaks Voice
Front Page October 23, 1995
---
Symphony in the Park
New Publication Shedule
---
Symphony in the Park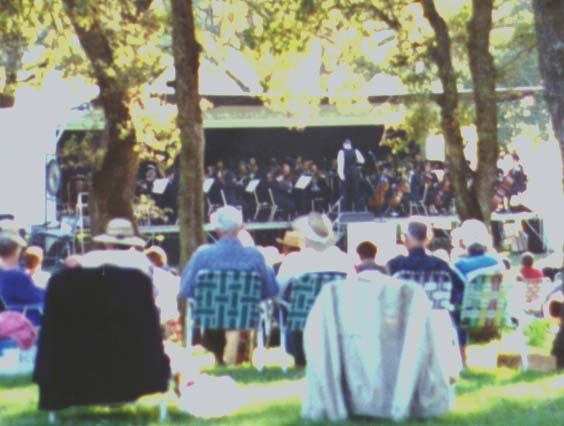 ---
Centennial Celebration Brings Symphony to the Park
The Sacramento Symphony helps Fair Oaks celebrate the Centennial with a concert in Fair Oaks park on a beautiful Saturday afternoon. People found seats in lawn chairs, on blankets and on the grass under the oaks.

In the center of the crowd Jeanne Hill, chairperson of the Centennial committee, enjoyed the concert with her husband Dick. The Voice wants to commend all of the centennial committee for their efforts in highlighting Fair Oaks Centennial year with special events such as the Symphony in the park.

The next centennial event is at the Post Office Saturday, November 18th, the anniversary of the arrival of the first settlers of Fair Oaks from Chicago. Check with Jean at Oaks Hardware, 967-5225, for details.
---
---
Back to Index
---
---
New Publication Shedule
---
The next issue of The Fair Oaks Voice is scheduled for April 29, 1996 (six months from now). During this period of time I will be working as a computer consultant to pay medical bills for this year and for the two eye operations scheduled for next year. The Fair Oaks Voice will appear intermittently on the internet. Also, I will be working to put together a professional staff to produce the newsprint version of the Voice.

Subscription for the Voice have been extended for six months.

Those subscribers desiring refunds can write the Voice including a self addressed, stamped envelope stating the amount that would be an appropriate refund.
---
---
Back to Index
---
---