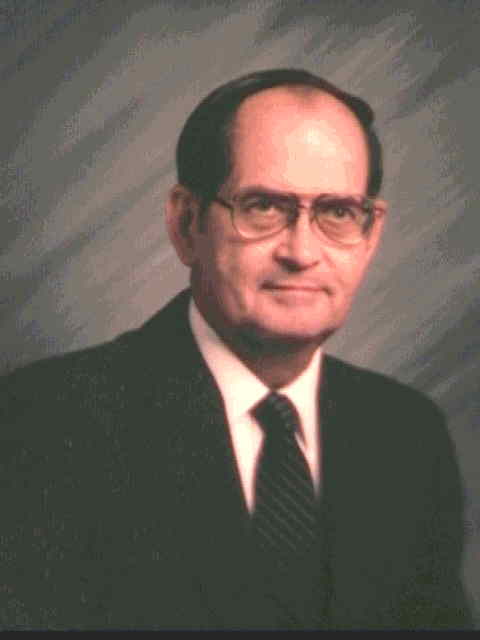 DR. HORACE CRANDELL, Ed.D.
EULOGY
DELIVERED BY ROY EDWARDS
FRIDAY, SEPTEMBER 8, 1995
Ladies and gentlemen, friends and relatives of Horace Franklin Crandell; we're meeting tonight in his memory - and to honor his request that we not mourn his passing - rather we should celebrate his life. And in so doing, take a look back on the beginnings of his life to gain some insight on how he lived to overcome many obstacles along the way. He came to us here in Fair Oaks by way of a very circuitous voyage through life, with stopovers in many parts of the world. We all have a pretty good picture of the Horace we knew here in California from 1969 till 1995, but in my visits with him over the past few weeks, he became concerned with the fact that not too many people knew Horace Crandell the child; Horace Crandell the teenager; Horace Crandell , the struggling student, and Horace Crandell, the young man. It was important to him that he share some of his memories of these earlier years with his friends. I would like to honor his wish that when you leave here tonight, you take with you a better understanding of the complete person.

He was born November 23, 1935, in Albany, N.Y., to parents of middle age who thought their child-raising days were behind them. His father was 50 years of age, his mother was 40. The nation was in the depths of the Great Depression, and his father lost everything when the banks failed. The father's employment skills were limited by a 6th grade education, and he was forced to work long hours and odd hours of the day and night to provide for his family. This precluded the quality time for a normal father-son bonding to take place. Unfortunately, his mother was ill and bedridden during much of the time during these early years, so it also meant loss of quality time with his mother for long periods of time.

It was when Horace started first grade that his parents were made aware that he was considerably smarter than the other kids his age. When IQ tests revealed they had a genius , they realized then that they had overlooked or discounted some of the earlier signs of his potential talents. He had a natural musical talent, and started piano lessons at age 8. He also sang in The Cathedral of All Saints school choir in Albany.

Unlike most children of that age, he had an early grasp on the fundamentals of economics, and the laws of supply and demand. He figured out a way to corner the bubble gum market in his neighborhood! The time was 1943, World War II brought about rationing of many items we take for granted today. Also, there were none of the huge supermarkets then, and most of us who lived through that era remember the neighborhood grocery store. Sugar was rationed then, so candies, cookies, gum, and all sweets were in short supply. Do you remember the candy counter at the corner store, and "penny candy?" Well, Horace bought up all of the neighborhood bubble gum supply at a penny apiece, then declared a "bubble gum emergency." What with so many other items of daily life being in short supply, none of the other kids were too surprised. After letting a few days go by for the effect of the "emergency" to be felt, he soon had the neighborhood kids standing in line to buy his bubble gum at a nickel apiece.

Besides his involvement in the juvenile retail business, he started expanding into "the service & contracting sector" of the free-market system. During the winter he would get up earlier than the rest of the neighborhood, shovel snow from the neighbors' sidewalks before they awoke, then leave his business card in their door with this note: "I'll stop back by on my way home from school and you can pay me whatever you want to if you are pleased with my work. If you are not pleased, please accept my gift." How many people do you suppose would be hard-hearted enough to try to stiff an industrious kid? Not too many, according to Horace. The upside of his activities was that he always had more spending money than most of his friends...the downside was that he had to start paying income taxes at age 12!

As a teenager, his horizons continued to broaden. He was an Eagle Scout, Order of The Arrow; Explorer Scout, Silver Award - highest honor. He became an assistant scoutmaster, earned the NRA's Marksman Award, Worked at YMCA Camp as a youth counselor, life guard at the Municipal Swimming Pool, and earned the Jaycee Award for Community Service...all this while working hard in high school so he could graduate at age 17. Oh yes; while he was doing all these things, he was still involved in music, playing French Horn, viola, baritone horn, and piano in high school bands and orchestra, studied conducting, and served as president of his high school theater club. After high school graduation he finished college in 3 1/2 years, got his first teaching job in Greenwich High School in N.Y. in 1957. Not wanting to have too much idle time on his hands, he kept his part-time job at the ambulance company and hospital on weekends, then working full-time at those jobs during summer break.

Deciding to pursue a career in medicine, he entered med. school at the end of that summer instead of going back to teaching, after he was accepted at the University of Freiburg, Switzerland. One term later, he transferred to the University of Basel, where he discovered that the 2 years of German he had taken in college did not prepare him for the lectures, technical terms, labs, and textbooks in German. He spent two weeks during spring break at the University of Vienna, Austria, with a tutor, then an intensive course in German at the translator school. When he returned to the University of Basel next term, things improved dramatically.

Next summer, he returned to the USA for summer vacation and took a chemistry course at Columbia University and played concerts in Central Park. Not much money, but great recognition! Plus, didn't have to pay for the chemistry course. So much for making big bucks that summer! To raise funds for the return to Switzerland in 4 weeks, he went back to Albany and worked in the hospital days, and the ambulance company nights and weekends. That made enough money for return to U. of Basel for the fall term. No money left for spring term, so he took a leave of absence to return Stateside to earn or borrow sufficient funds to go back next year. No luck. Now an additional obstacle had to be overcome...the draft board. Without a student deferment, he was now eligible for the draft. Rather than wait around for the inevitable, he took the proactive approach...he joined the National Guard in a program that required 6 months active duty followed by 5 1/2 years as a "weekend warrior". At Fort Dix, N.J., instead of going through the rigors of basic training, or boot camp, his musical talents got him into the band; plus, he sang tenor in the chorus on base. However, 2 items are mandatory for all troops, whether they are cooks, clerks, or band members...qualifying on the rifle range, and field exercises, or bivouac. Having been an NRA marksman, the rifle was no problem. However, 5 of his platoon members couldn't hit the target, no matter how hard the tried. The army, being the democratic institution we all know it to be, sent word down through the first sergeant that the entire platoon would stay at the range until all had qualified. SOLUTION: As their names were called out, Horace quickly donned their jackets, stepped up to the firing line and qualified each of them!

Later, when they went on bivouac, the company marched into the woods, set up camp, and put up their tents. Remember, we have an Eagle Scout/Explorer Scout out here with a bunch of city dudes, so his tent is the first one up. He's now going up and down the line helping the others get their tents up. Before he could finish, the company commander drives up in his jeep ready to inspect the troops. He spies Horace and asks him if he is the same Crandell who was to do a tenor solo with the chorus the next day. At that point, the captain told the sergeant that Horace should not be outside tonight in the cold, rainy weather, and told him to load his gear into the jeep. He had the entire warm, dry, barracks to himself that night. He calls that one of his finest days in the army. At the end of basic training at the awards ceremony, his name was called and the other members of the company looked blank as he walked up to the stage to get his trophy for a perfect score on the rifle range. Most had never heard of him, nor seen him, since his time was spent with the band or the chorus in concerts or paraded almost daily.

Back to civilian life, with no prospects for a career and still broke, the realization set in that he would not be going back to medical school. He then went to graduate school for his masters . While in grad school he also taught high school history. But still having some hours left unfilled, he studied and attained his NASD registration, life insurance license, Real Estate license, and became an investment advisor. Compressing the next few years into a small paragraph in the interest of saving time here this evening isn't easy, but he next went on to become Asst. Academic Dean at S.U.N.Y., Albany, then Adjunct Professor of African History, and Associate Dean of Operations at S.U.N.Y., Brockport. He received two Fullbright Awards, serving as visiting scholar at the University of Nigeria, later working with the West German school administrators. Horace and Roseanne met in 1963. They planned a 1964 wedding, and when the time came to make all of the arrangements, Roseanne did the legwork while coordinating the details long-distance with Horace during his travels.

In 1969, he and Roseanne moved to California when he accepted the position of Assistant Director of The Coordinating Council For Higher Education, a State agency. The move west interrupted his work on the Doctoral program, so he made a few trips back to Albany to complete his Ed.D. program. Never content to be involved in only one major project at a time, he and Roseanne took a vacation to Las Vegas in l972 with a travel club that owned its own plane. They were so impressed with the opportunities this offered, that they bought stock in the club, then Horace became President of the club. He worked till l975 to get it profitable, then resigned and went back to only one full-time job. He retired from the Postsecondary Education Commission in l987, and became even more involved in community projects and activities, among them Honorary Mayor of Fair Oaks, President of the Fair Oaks Chamber of Commerce, President of the Friends Of The Library of Fair Oaks/Orangevale, President of the Fair Oaks Village Singers, Secretary of the Fair Oaks Centennial Committee, and served on the board of the Fair Oaks Historical Society. I could keep on for the next hour talking about the many, many civic projects he has been involved with, but I'll shorten the list in the interest of time...there was never an activity connected to the Fiesta in the past few years that didn't have Horace involved in some way...for instance, this past Fiesta, he even got to "baby-sit" the frogs for the frog jump one night when there was a breakdown in the security coverage for the evening. He helped coordinate the wine tasting during last year's Taste Of Fair Oaks, chaired the committee for the Entertainment Book sales, compiled the most comprehensive demographics study the Chamber has ever had, served as secretary for the Ambassadors, and continued to stay active in the Chamber Education Committees.

That was the Horace that we have known and will remember. I feel, as we all do, that as he walked through life, he left some mighty big footprints. We are very proud to have had him preside over the Fair Oaks Chamber of Commerce during this Centennial Year, and plan to establish a continuing memorial in his name. He had a special fondness for education and the library, so what could be more fitting than to have his Chamber establish and maintain an award, the Dr. Horace Crandell Memorial Library/Education Fund? Charles Barr of the Fair Oaks Village Gallery has donated a print of the Old Bridge signed by the artist and Horace. This print will be sold at silent auction with the proceeds going to the fund. during succeeding years, the Chamber will have fund-raisers to keep the fund going.

In closing, I would like to remind all of us that Horace wanted this to be thought of tonight as a meeting of friends honoring his memory, and a celebration of his life.